Milan Latinović, Acting Director of the Office for IT and eGovernment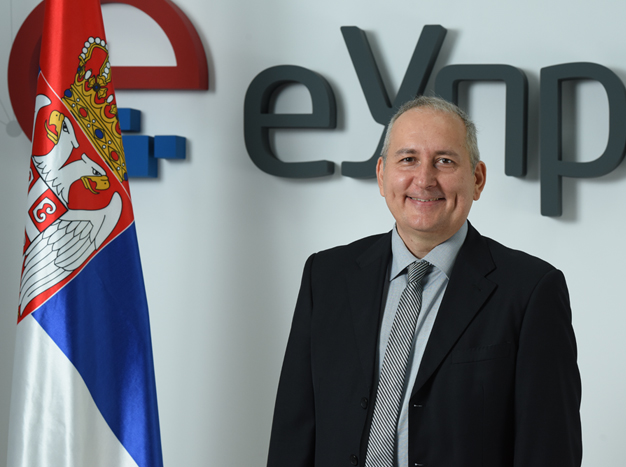 Born in 1969 in Zemun, where he graduated from the "Svetozar Miletić" elementary school. He completed his secondary education at the "Nikola Tesla" School of Electrical Engineering in Belgrade, and obtained a Degree in Electrical Engineering, majoring in Telecommunications, at the Faculty of Electrical Engineering in Belgrade.
After a five-year engagement in the private sector in economic and financial affairs, in December 2001 he began his professional career in the field of telecommunications, most of which he spent in PE PTT Traffic Serbia - branches of "PTT KDS" i.e. "Post NET", where he was engaged as Engineer, Manager, Assistant Director and finally Director of the Cable Operator. In 2016, under his leadership, the Cable Operator "Post NET" achieved one of the best business results in its history.
In March 2017, he was employed again in the private sector, where he held the position of Head of the Design and Engineering Sector and Project Manager for the All IP Transformation Project, engaged in the project of constructing an optical network in Belgrade (the project was implemented by Telekom Srbija in partnership with Huawei and a large number of partners from the private sector). In that period, the contracted phase of constructing the Belgrade optical network in three areas (clusters) and the design of the fourth was successfully implemented. After the establishment of the Office for Information Technologies and eGovernment, in February 2018 he joined the Office team, where he was involved in a large number of projects, and since December 2018 he has been in the position of Sector Manager - Acting Assistant Director.
He was appointed Acting Director of the Office for Information Technologies and eGovernment at the Session of the Government of the Republic of Serbia on November 10, 2022.
He speaks English and is familiar with German.
He proudly acknowledges his wife, Biljana, and daughter, Sonja.