Say goodbye to waiting in queues, crowds at desks or wrong phone numbers. The e-government enables you to finish all administrative affairs in a much more convenient manner from your home, office or even on the move, through mobile appliances, so that you have more time left for the things that really matter.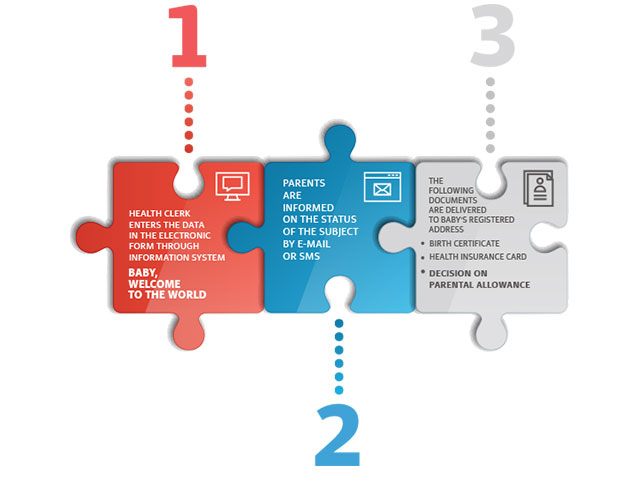 "Baby, Welcome to the World" project makes it easier for parents of newborns to register their child's birth in the Registry of Births along with the residence, as well as to apply for health insurance and parental allowance while still at the maternity ward. The whole process enables fast, simple, free and easy registration and abolishment of unnecessary paperwork. Documents arrive at your home address.
The information system "Baby, Welcome to the World" started operating in April 2016 with the aim of making the first days of their child's life easier for parents - allowing them to complete administrative tasks in about 15 minutes, electronically and completely free of charge, for which it previously took several trips to counters and payment of different taxes.
More than 140,000 babies were registered through the information system and in more than 90% of cases, parents decided to take advantage of the "all in one place" service and successfully complete their registration in the Registry of Births, place of residence and health insurance.
The new parental allowance service applies only to the parental allowance paid from the state budget. Local self-governments have the right to introduce additional family benefits within their jurisdiction, which are not currently included in the maternity service except for the City of Belgrade, whose cash benefits, as a form of support for mothers with residence in Belgrade, are part of the service.
This modern electronic service places Serbia among the rare European countries that provide electronic services at such a high level. The parental allowance "per-click" shall be available in all local self-government units in Serbia as of January 1, 2019.